Details

Category: Helen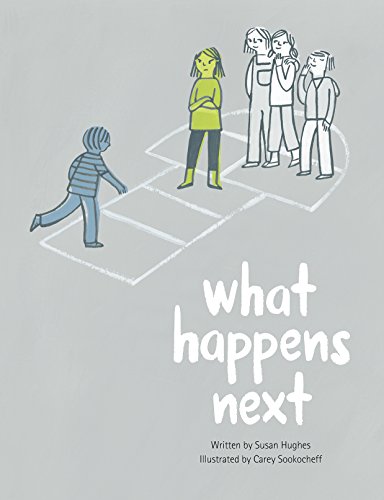 What Happens Next by Susan Hughes
In What Happens Next a small girl dreads confrontations with a school bully. Filled with sparse text that clearly illustrates this issue, this book features an effective call and response pattern that creates suspense while focusing on what the protagonist feels.  The illustrations also communicate how the protagonist feels.  For example, in the first illustration she is all blue, the bully is all green, and everyone else in the school ground is black and white - emphasizing the confrontation, and the non-participation of all her classmates.  In a later illustration, our protagonist's mother is added to the school ground scene, watching from the fence - her supportive participation is represented with colour.  Her mother's support and guidance help her to successfully approach the bully and in a subsequent scene everyone in the school ground is in colour and - importantly - our protagonist and the bully have only blue and green shirts, respectively, while their faces and pants are coloured similarly. Their conflict is no longer central to our protagonist's life. This book's perfect, emotionally healthy message is expressed with enough precision that it might help a real child (or parent) to be brave too.  I hope so. I encourage libraries to give their patrons the opportunity of reading this book.
PICTURE BOOK
Hardcover LBN  pr1300433
Details

Category: Helen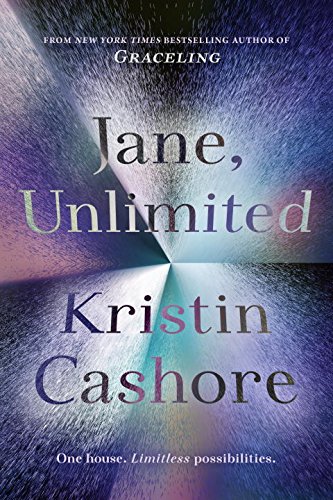 "Jane, Unlimited" by Kristin Cashore
I am an unrepentant fan of Kristin Cashore and her work. I hold up Jane, Unlimited to the universe*, and all in it, and say, "There! See? Kristin Cashore is brilliant!" She spreads her literary wings and soars in this novel, sharing intriguing ideas and plying her craft with consummate skill. She has created an abundance of settings and a diverse crowd of splendid, memorable, complicated, (and sometimes flawed), characters to surround, intrigue and infuriate, brave, broken-hearted Jane.
Kristin Cashore fans, I beseech you, don't read any more, just dive in and enjoy.
If you need convincing - oh ye of little faith - Ms. Cashore has sewn into the fabric of this book dozens of her favourite places, settings, books, works of art, and other interesting things. Use it as the focus of a book club, together with Rebecca, by Daphne du Maurier; Jane Eyre, by Charlotte Bronte; The House of Mirth, by Edith Wharton, A.A. Milne's Winnie The Pooh, Chapter 8: In Which Christopher Robin Leads an Expotition [sic] to the North Pole and more. (See the author's acknowledgements) The book club could also virtually visit the paintings, sculptures and museums mentioned in this novel, but I digress.
Jane explores a rambling architecturally mismatched mansion – alternately an A.I. spaceship, which makes Arthur C. Clarke's HAL look like a lap dog - pursuing four mysteries. She finds a living library, undulating with colour (the books catalogued by the hues of their spines); a heroic, almost telepathic basset hound; secret passages and portals; an alternate world; multiverse theories; art history lessons; extraordinary sculptures and paintings including a Rembrandt and last but not least, many gorgeous, eclectic umbrellas, critical to several plot points... Actually so is the basset hound. Recommend this book to ardent readers, both young adults and grown-ups.
(*I should say Multiverse.)
YA SCIENCE FICTION / FANTASY / ROMANCE / DIVERSE / LGBTQ / ACTION / ADVENTURE MYSTERY
Hardcover LBN pr1271112
Audiobook LBN pr1294394
Details

Category: Helen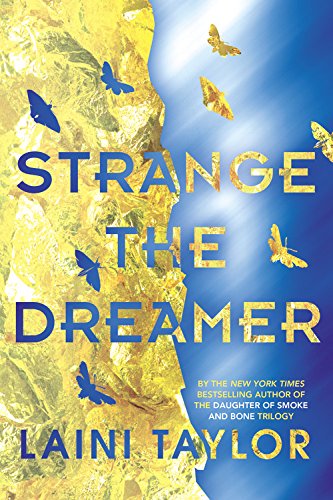 "Strange the Dreamer" by Laini Taylor
Featuring a brilliant plot and beautiful writing, Strange the Dreamer illustrates Laini Taylor's excellent originality in magical world building as it follows the adventures of an orphan named Lazlo Strange. On top of this Taylor's characterization of at least twenty main players is outstanding in this symphony of a novel. Together with The Diabolic it is among the most exciting books I've read in years. Recommend it to everyone! Particularly recommend this book as an adult cross-over, and to Philp Pullman, Kristin Cashore and Veronica Roth fans. I started this book in print but finished with the audio. This gorgeous, almost musical writing deserves to be heard aloud.
YA FICTION
Hardcover LBN pr1200964
Audiobook LBN pr1199767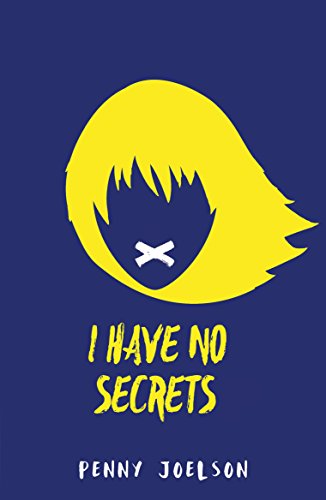 "I Have No Secrets" by Penny Joelson
Jemma has severe cerebral palsy and is unable to communicate. Despite this she has a keen intellect and takes in everything that happens around her. When her care-giver, Sarah, goes missing, Jemma knows who's responsible. He knows she can't talk and so he taunts her and sends the police in the wrong direction. Then Jemma's family hears of a new technology that might help her speak. Suddenly, Jemma's in a race to locate Sarah and tell the police, before her kidnapper learns Jemma is able to implicate him. Woven into the mystery is lots of content that shows what Jemma's life is like. Never didactic, it will nevertheless help readers relate to young women like Jemma.
This YA mystery is suitable for bright kids reading above their age or for younger YA readers. Romance is not a key plotline and nothing violent is directly described.
DIVERSE YA FICTION
Paperback LBN pr1262187