Details

Category: Helen
That Inevitable Victorian Thing by E.K. Johnston
Canadian E.K. Johnston's book Exit, Pursued by a Bear (pr1132712) had a huge impact on me. Apart from many aspects of the book to recommend it, her characterization is outstanding (As a lowly band nerd in high school, anyone who can make me love a popular, cheerleader is a VERY talented writer). That book made me interested in all her work, moving forward and That Inevitable Victorian Thing did not disappoint. It is impressive for many reasons. There is an intersex and LGBTQ character, as well as Indigenous heritage, among the main three protagonists. I also admire Canadians who use Canadian settings, as it almost certainly limits sales in U.S. markets. It's a sacrifice that supports Canadian teen readers seeing their homes and neighbourhoods in fiction – in this case, mostly Toronto, and Muskoka. Our protagonist – soon to be queen – debuts in Toronto, disguised as someone else. The fact that it's speculative fiction makes it extremely hard to describe the setting or plot succinctly in any more detail, than that. However, like Johnston's previous book, the characters are so well drawn that their world, concerns and dreams are compelling and convincing. Central to the book is something I haven't read dealt with in many books. It actually talks about bisexual characters LIVING as bisexuals. How the logistics of being in love with two romantic partners will work, not just the initial, romance. I'm hopeful we'll see these characters again.
Recommend this book to anyone who loves the TV series The Crown, YA series like The Selection, and above all, strong, female protagonists, not afraid to bash intruders with cast iron fry pans.
YOUNG ADULT FICTION
Hardcover LBN pr1271037
Details

Category: Helen
Ten Cents a Pound by Nhung N. Tran-Davies
In this book a little girl worries about her mother's hands - scratched and course from picking coffee beans. Her mother replies that she does this work so that the little girl's hands can hold books instead. The little girl worries about her mother's sore back, calloused feet, and failing eye sight. In alternating replies the mother dreams about a back pack of school supplies, shoes to walk to a school beyond their village, reading and writing about places far beyond that. All that accomplished pound by pound, ten cents at a time. Eventually the little girl relents that she will leave her mother, but someday she'll return. With a page count of only 22, and text on alternating pages, every word is precise, each image well crafted. The little girl and her mother speak in first person, which engages the reader very effectively. The earthy browns and greens of their village contrast with colourful and sometimes metamorphic images that burst from the little girl's books and imagined scenes from her future - butterflies, birds, flowers, a big, white school, etc. The author came to Canada as a refugee, and this book has obvious uses around diversity, helping refugees see themselves in books and helping other Canadian children to understand refugees and migrants. In that context it's nice that the mother's love and overcoming illiteracy and poverty, is the catalyst for change, not horrors like war, famine, racial intolerance or catastrophic natural disasters, as is so often sadly the case with refugees and migrants today. Also, Canadian children living in poverty may see themselves in this book, and their mothers' sacrifices. More widely, the mother's love and sacrifices make this a fantastic choice for Mother's Day collections, displays or programming. I just reread this picture book for the fourth or fifth time and it made me cry… again. I don't mean it brought a tear to my eye. I mean it made me sob, so that I had to blow my nose and wipe my eyes, and recover. This beautiful, moving book will win much acclaim for its poignant message, and gorgeous presentation. I recommend it to your library. Once you read it, perhaps you'll want a personal copy to give on Mother's Day. As always, Bravo, Second Story Press!
PICTURE BOOK
Hardcover LBN pr1300365
Details

Category: Helen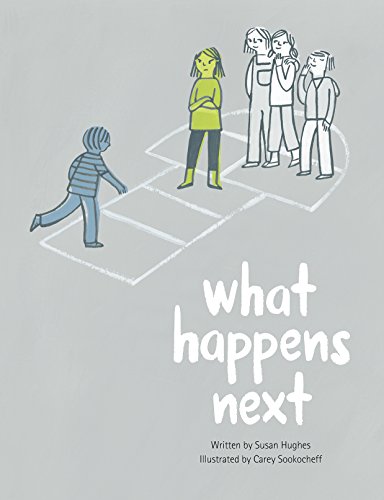 What Happens Next by Susan Hughes
In What Happens Next a small girl dreads confrontations with a school bully. Filled with sparse text that clearly illustrates this issue, this book features an effective call and response pattern that creates suspense while focusing on what the protagonist feels.  The illustrations also communicate how the protagonist feels.  For example, in the first illustration she is all blue, the bully is all green, and everyone else in the school ground is black and white - emphasizing the confrontation, and the non-participation of all her classmates.  In a later illustration, our protagonist's mother is added to the school ground scene, watching from the fence - her supportive participation is represented with colour.  Her mother's support and guidance help her to successfully approach the bully and in a subsequent scene everyone in the school ground is in colour and - importantly - our protagonist and the bully have only blue and green shirts, respectively, while their faces and pants are coloured similarly. Their conflict is no longer central to our protagonist's life. This book's perfect, emotionally healthy message is expressed with enough precision that it might help a real child (or parent) to be brave too.  I hope so. I encourage libraries to give their patrons the opportunity of reading this book.
PICTURE BOOK
Hardcover LBN  pr1300433